Customer review
Altenmarkt
63 Number of reviews:
100 % Recommendation rate:
Snowpark:
Absolut Snowpark

Altenmarkt

A very special freestyle highlight awaits you at the Shuttleberg near Flachauwinkl in the Salzburg Sportwelt. The "Absolut Snowpark" offers all adrenaline junkies (from beginner to pro) top opportunities to run riot. It starts with the 5 times kicker line, which is located at the exit of the park's own 6-person "Absolut Shuttle". The "Spring Battle", Austria's most famous 'on mountain' Snowboard Contest, takes place on this line. Directly next to the kicker line there is the rail line, where riders prove their skills on a kinked rail, a rainbow rail, hand rail, various boxes, down rails, and a double kinked rail. Last but not least, creativity and spontaneity are demanded in the Jibpark, which is designed in skate park style.

Furthermore, the "Absolut Snowpark" comprises a 100 m long half-pipe with 4 m high walls, as well as a super-pipe, which is 160 m long and is located above the valley station "Family Shuttle" and was built according to X-Games and Olympics norms. Additionally, there is a "Chill House" in the park with more than just great tunes, video walls, and a lot of space to relax. In the two-storey house you will also find a mini skate ramp and a massive boulder, which will make a freestyler's dreams come true.

Since 2007 there is a further highlight to be found at the Shuttleberg. Burton and the Absolut Park Team constructed "The Stash" in Flachauwinkl. The concept is special, as you can show your creativity on partly hidden obstacles, which were built as part of the landscape. The fun and easy obstacles can be used in many different ways. Furthermore, there is the "Lil' Stash" park, located at the exit of the "Powder Shuttles", which is especially great for the little ones.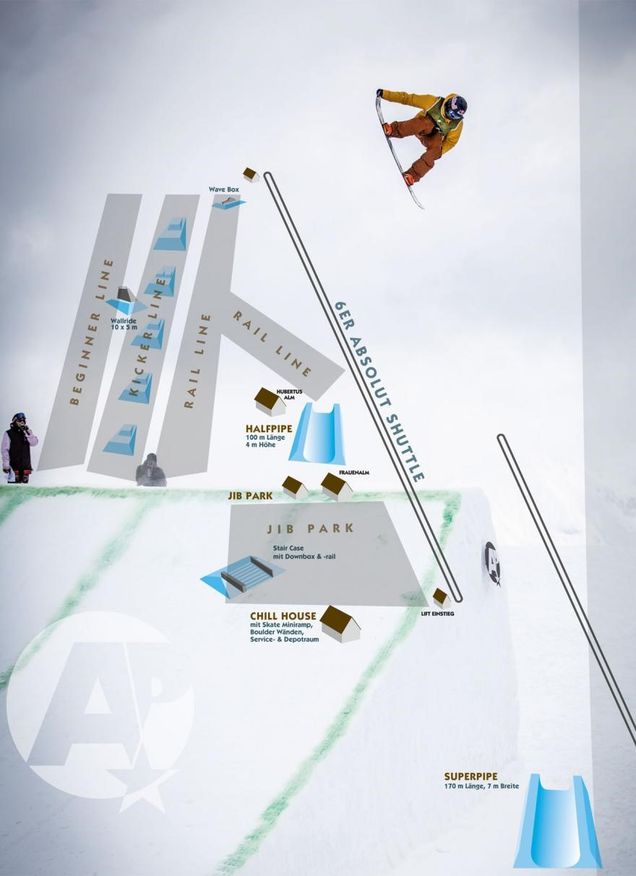 Accommodations in Altenmarkt