Customer review
Vars-Risoul
40 Number of reviews:
92 % Recommendation rate:
Snowpark:
Vars Snowpark, Surfland Snowpark

Vars-Risoul

The area of "La Forêt Blanche" presents itself as a real fun park paradise and offers a total of eight different snow parks, seven in Vars and one located in Risoul. In Vars the "Vars Park" is divided into seven different fun zones.

Besides the "Kid Park", "Super Kid Park" and the "Girly Park" which offers pink boxes for the girls to test their skills, the other 4 zones offer their individual highlights. The "Park des Escondus" offer 16 - 18 different elements for the more advanced riders. The "Park des Ecrins" is perfect for all those who love to freerstyle at night. Once per week the park remains open in the evenings to let the riders try the 3 different lines (from beginner to pro) under floodlights.

A top location for capturing your styles and jumps on video is the "Totem Park". In this "Indian Village" the park offers rails and totem poles made of wood to be filmed and photographed on. In the "Vars-West" zone of the "Totem Park" the riders can burn off steam on various obstacles in the wild-west look.

This park is surely worth a visit if you like video/photo captures or just enjoy riding natural elements. The great fun park offer in Vars is finally rounded off by the 8 ha large "Park de l'Eyssina", located at 2,400 m altitude. Here you can try out the funny alphabet boxes in the "Alfa Park" or get going on various lines with loads of tables, rails and kickers. If you are looking for a direct challenge then you can take up on the extensive boardercross run. Between the runs or at the end of adventurous day you can easily relax in the "Chill Zone" with cool sounds and a juicy BBQ.

If you think this much diversity, as it is to be found in the "Vars Park", can't be topped, must check out the "Surfland" in Risoul. This is one of the largest and most impressive snow parks in Europe and it was used as the official training hotspot for the Olympic Games. Besides the standard rails and kickers there is also a 150 m long, and a slightly smaller half-pipe available, and the park is also host to regular BigAir and other contests, like the European Freestyle Snowboard Cup from 22/01 - 24/01/2018.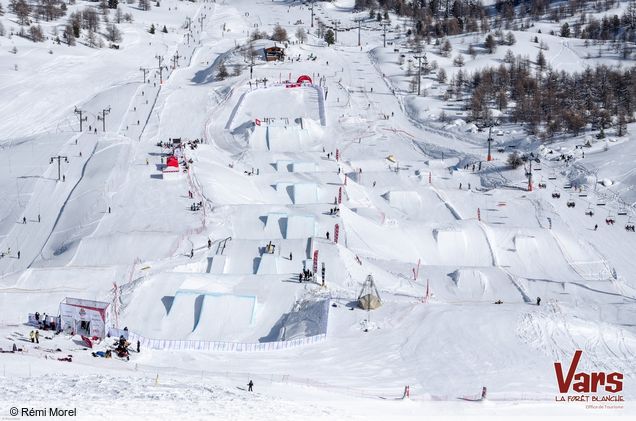 Accommodations in Vars-Risoul