Travel Info Bludenz
How does one best travel to Austria? Airports include Salzburg, Innsbruck, Klagenfurt, and Linz. Depending on your destination, Munich or Friedrichshafen (in Germany) or Zurich (in Switzerland) are also good options. In Austria, you will rarely find a train station in the resort. The distances from the different train stations and airports to the resorts are shown above the map. Those travelling by car will find a link to a route planner in the lower lefthand corner of the map. Simply enter your origin location and a route will be calculated for you. Please note, that it is wise to be informed about the closure of mountain passes during the winter months! Please also take into consideration that your car is required to be equipped for winter conditions, and that you will need snow chains with you.
By train: Bludenz (in resort), Schruns (approx. 15 km)
By plane: Friedrichshafen (approx. 90 km), Innsbruck (approx. 140 km), Zurich (approx. 155 km)
Get travel directions here.
Accommodations in Bludenz
1 accommodation: Travel Info Bludenz
sort by:
star category
Recommendation rate
price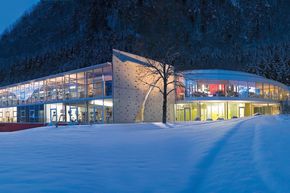 75 %
Recommendation rate:
Accommodation details
The modern, 3-star Val Blu Resort Hotel Spa & Sports is a unique Alpine designer hotel and is located in a quite mountain panorama location, approx. 800 m from the resort centre of Bludenz. The nearest access point to a ski area can be found at the Bürseberg, approx. 5 km from the hotel. The ski bus stop (approx. 700 m away) can be easily reached via the city bus, which stops directly at the building. Access to the nearest cross-country trail can be found within approx. 6 km.…

Resort details
Altitude ski resort: 587 m
Ski area details
Pistes: 235 km | Highest point: 2,430 m

All included services
Lift pass valued up to $286 included!
1
3
Last-Minute & More
bookable
bookable on request