Customer review
Les 2 Alpes
982 Number of reviews:
92 % Recommendation rate:
Snowpark:
Freestyle Land Snowpark

Les 2 Alpes

The "Freestyle Land" snow park is located at two different altitudes, on the middle of the glacier: in winter it is situated at 2,600 m, in summer it lays at 3,200 m altitude. It is known to be a real freestyle Mecca, which may be one of the reasons why the annual "Uni Camp" contest is held here, whereby Germany's students can battle freestyle on their boards and skis.

The winter park at Toura covers a total area of 24 ha and offers great entertainment for freestyle fans. The slopestyle track comprises 3 kickers, 3 rails, one hip which is connected by two quarter pipes and then finished off with an S-rail. The 4 m high kicker with 20 - 25 m flat in the Big Air zone provides access to the slope style line also after the jump and then end the track from the hip. In the Axe pipe there is a multifunctional table, a step-up gap and an up rail which leads to one of the quarter pipes and down rail to the end of the line. The 120 m long and 5 m wide half-pipe complies to international standards and is daily maintained and reshaped by an experienced team.

Besides all these freestyle options the park further offers a cool kid's area, a beginner area with hoops and tables, a special rail area with boxes, beginner and pro rails, as well as intermediate kickers. Boardercross is also something you should not miss here.

The perfect offer of the 2 Alpes snow park is rounded off with a cool chill out area with BBQ and sound system, and a visitor area where friends and spectators can watch the freestylers fly through the air without being in the way. This snow park is therefore ideal for everyone to be part of the community and enjoy the atmosphere together in this special location in Les Deux Alpes.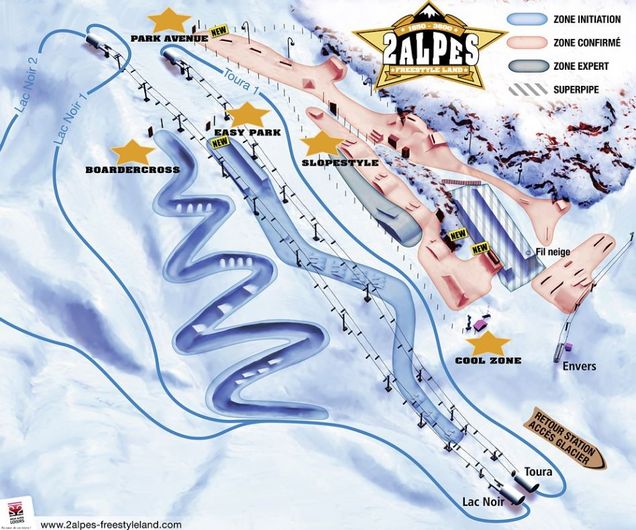 Accommodations in Les 2 Alpes