Snowpark:
Snowpark Centralpark

Veysonnaz

Freestylers and boarders who like to dare a risk will feel right at home in the snow parks of Nendaz. The different areas are only waiting to be explored, attracting freestylers and spectators with various obstacles. There is one snow park which is geared to both beginners and pros with the "Advanced Park" and the "Burton Progression Park". Further there is the "Wood Park" and the La Jean-Pierre piste. It offers a broad selection of obstacles, and as the name might imply, they are mainly created from wood. Slides, kickers, rails and boxes preserve the environment and create great freestyle fun.

If you also like a good battles besides daring a risk, then you should try the "Coop SkiCross Park". Up to four people at once are set free on the piste L'Alpage. It offers steep curves, jumps and waves from start to finish. A visit worthwhile!
Accommodations in Veysonnaz
3 accommodations: Snowpark Veysonnaz
sort by:
star category
Recommendation rate
price
Accommodation
The well-run, 3-star Superior Résidence Centre is located approx. 300 m from the resort centre of Veysonnaz. The ski bus stop can be found approx. 200 m away and the ski area can be reached within 1.5 km. The residence comprises 3 buildings and offers a reception, a lift, Wi-Fi (payable locally) and a ski room. In resort, you receive free …
Accommodation details
Included services
Lift pass valued up to $355 included! All included services
Room Type
Nights
Lift pass
from
Apartment, sleeps 8 (approx. 50 m²), SC
7

$362

Studio, sleeps 4 (approx. 25 m²), SC
7

$384

Apartment, sleeps 6 (approx. 35 m²), SC
7

$373

Complete price table
1
3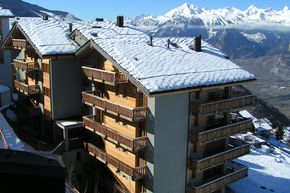 100 %
Recommendation rate:
Accommodation
The well-kept 3-star Superior Residence Plein Ciell is located approx. 200 m from the resort centre of Vaysonnaz. The ski bus stop is just approx. 50 m away and to the nearest ski area it is approx. 250 m. The accommodation comprises two buildings and offers a reception, lift, ski room and Wi-Fi (payable locally). Per apartment there is one …
Accommodation details
Included services
Lift pass valued up to $355 included! All included services
Room Type
Nights
Lift pass
from
Apartment, sleeps 8 (approx. 80 m²), SC
7

$407

Apartment, sleeps 6 (approx. 80 m²), SC
7

$416

Apartment, sleeps 4 (approx. 50 m²), SC
7

$484

Complete price table
2
3.5
Accommodation
The well-kept, 4-star Résidence Balcons du Soleil is located approx. 300 m from the resort centre of Vaysonnaz. The ski bus stop is just approx. 200 m away and the ski area can be reached within 1.5 km. The accommodation comprises three buildings and offers a reception, lift, ski room and Wi-Fi (payable locally). Per apartment there is one …
Accommodation details
Included services
Lift pass valued up to $355 included! All included services
Room Type
Nights
Lift pass
from
Apartment, sleeps 6 (approx. 80 m²), SC
7

$428

Apartment, sleeps 4 (approx. 50 m²), SC
7

$461

Complete price table
3
4
Last-Minute & More
bookable
bookable on request